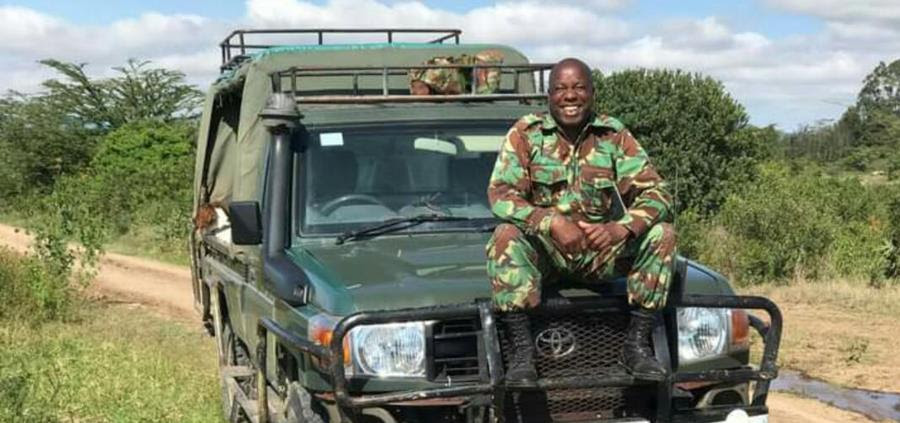 During the week leading up to World Ranger Day, 31st July, Ol Pejeta celebrated it's brave 'heroes', men and women, for their selfless duty. This extraordinary and dangerous job requires more than just courage – it demands passion and a firm belief in humans and wildlife coexisting peacefully. In their honor, Ol Pejeta shares their incredible stories with you , telling you a little bit more about their work.
It takes nearly 200 rangers to patrol and protect the 110,000-acre conservation area. The rangers are organized in various teams with specific duties to create a safe and natural environment for the wildlife.
First things first ,Ol Pejeta team take a moment to bid a very sad farewell to a dear friend and armed ranger, Joseph Kipkurui Busienei,(pictured above) who passed away this morning while off duty at his family home. The team will  forever be grateful for his 34 years of dedication to Ol Pejeta. May he rest in peace.
The rhino patrol unit 
These rangers walk up to 25 kilometers each day, trekking through thick bush and difficult terrain to locate and identify every individual rhino ensuring all 186 rhinos are sighted at least once every four days. Identification is made possible by the unique notching patterns on the rhino's ears. If a rhino is missing past the stipulated period, various escalation measures are taken, such as air patrol, until the rhino is sighted.
"Growing up, on school holidays, I would spend time with my dad who worked for a tour company and that is how I learned about conservation. I wouldn't have it any other way." Abraham Njenga, Mutara Area Coordinator, and rhino patrol ranger
"Most mornings when I wake up I don't know what situations I will find myself in, but it makes me happy to know that my work it is for the greater good of wildlife everywhere." Beatrice Wapitio, rhino patrol ranger
The anti-poaching and security team
This team comprises the National Police Reservists and the canine unit. One of the first private conservancy dog units in Kenya, Ol Pejeta's canine team currently has six dogs – a spaniel and five bloodhounds, and their handlers. This highly skilled team is in charge of patrolling the conservancy and surrounding communities in search of any signs of intrusion or suspicious activity. They also assist the local administration in investigating crime in the communities.
"Seeing rangers working in the park and the animals living in a safe place inspired me to be a ranger. I hope that I can inspire the next generation to take care of wildlife and be proactive about it." Deputy Manager, Security team
"The anti-poaching dogs support a lot in conservation, community, and the government. They are true wildlife heroes." John Tekeles, Head of the Anti-Poaching Unit 
Human-wildlife conflict management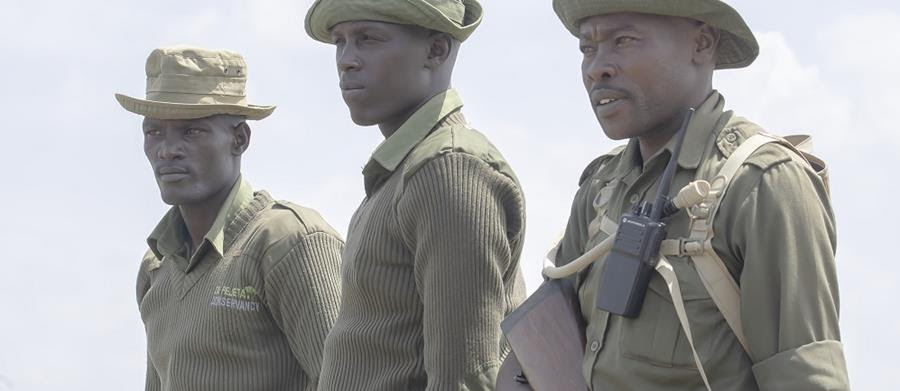 If conservation is to be successful, supporting and working with communities to ensure humans and wildlife are protected and live in harmony side by side, is crucial. One of the ways Ol Pejeta develops and builds this relationship is by responding to any calls that may require mitigation of human-wildlife conflict, making sure community property and livelihoods are safeguarded.
" Being a ranger has taught me that we have to look out for the voiceless. Protecting wildlife has been my calling since I was a child and I am so  happy that I get to live my dream." Simon Irungu, Head of the Rapid Deployment Unit
The Radio Room
This is the center of all ranger communications at the conservancy. Rangers in the field report back with information and data, this is collated and appropriately disseminated to enable action to be taken. It allows for a fast, smooth and timely response when there is danger or when an animal needs intervention.
"I am so grateful to have a job that is fulfilling and still enables me to take care of my family. It is a blessing!" Solomon Mutai, Tourism Ranger Guide
How to support our rangers
On October 23rd, in partnership with Helping Rhinos, Ol Pejeta will hold the annual fundraising gala, the Global Gala for Rhinos. The evening will focus on what it takes to protect and sustain rhino populations, and inspire future generations to appreciate and care for wildlife. The team has an exciting event planned, bringing Ol Pejeta to you, conversations with some of the conservation heroes 'the rangers', and lots of entertainment, prize raffles, an auction of some very unique experiences. The funds raised will go towards supporting the work the rangers do and ensuring that they have all that they need to protect the rhinos.
Other July Highlights
We welcomed 'Baran' to Sweetwaters Chimpanzee Sanctuary!
On July 5th, 2021, a four-year-old chimpanzee relocated from Eram Zoo in Iran arrived in Kenya to start a new life at Ol Pejeta Conservancy. Baran was born prematurely in 2017 at Tehran's main wildlife centre. Unfortunately, when she was old enough to be re-introduced to the other chimpanzees, she was not accepted by them and had to live a life of isolation which was significantly affecting her well-being.
Read more about Baran's story, and what brought her to Sweetwaters Chimpanzee Sanctuary, and the next steps in integrating her into the sanctuary.
Two new dormitories at Mwituria Secondary School
With the support of Corteva Agriscience™, various private donors, parents, the Laikipia East Constituency Development Fund, and the local Government, Mwituria Secondary School will now accommodate 120 boarding students. Students will be able to spend more time focussing on their education and not the long perilous journey every day to school, which can be particularly dangerous for girls.
Article courtesy of Ol Pejeta Conservancy
NOTE: Ol Pejeta is a non-profit wildlife conservancy in Kenya supporting endangered species, tourism and community outreach.